Vietnam is the emerging market of choice on a first- and second-place preferred basis in a new Cushman & Wakefield global survey, taking almost 80% of the votes, ahead of India's 75%.
Geographically, India is ranked by over 60% of the respondents as their preferred emerging market, excluding mainland China, in which to invest, the survey shows.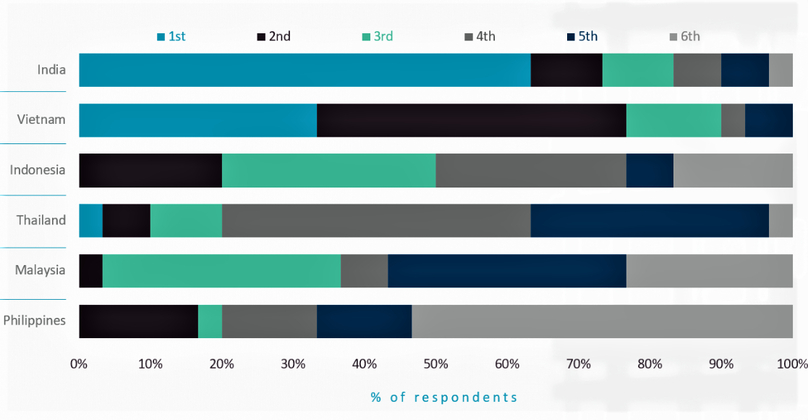 Cushman & Wakefield survey data shows the votes of choice for investment destinations.
The realty service company said in a release Thursday that investors worldwide are having to "look laterally" to find opportunities for growth in the current market but can still successfully deploy capital as ongoing uncertainty in the macroeconomic environment slows early-year momentum.
Citing findings in the survey, it noted that representatives from leading investment organizations said rising interest rates and an inflationary environment had caused a "pause" in the market as investors re-weighted their portfolios within the current conditions.
Despite the slowdown, investor sentiment was leaning towards a cautious resumption of deal flow to Asia Pacific later in 2022 once global players from the U.S. and Europe had adjusted to the current conditions, said Gordon Marsden, regional director, Asia Pacific Capital Markets at Cushman & Wakefield.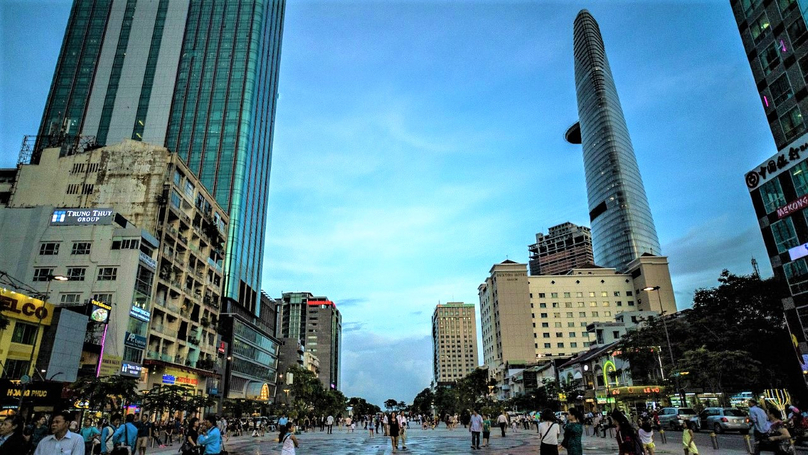 Nguyen Hue Boulevard in District 1, Ho Chi Minh City – Vietnam's economic powerhouse. Photo courtesy of ADB.
Asked how they would split $1 billion across different sectors, investors voted to allocate more to logistics than to office, with a significant additional allocation to alternatives including data centers – a sector with solid tailwinds that is undersupplied – and multifamily.
Despite softening yields, over 35% of the respondents believed the logistics sector remains fundamentally undersupplied, with a further 30% expecting positive but slower growth within the sector.
Another finding is the focus on industry and logistics was particularly evident in Greater China, where it was the largest sector by investment volume in Hong Kong in H1/2022.
In mainland China, industry and logistics is currently the second-largest sector by investment volume, accounting for approximately 25% of the total investments in the first half of this year, up from around 10% in 2020 and 2021, and only 2% in 2019, according to Cushman & Wakefield data.
Diversification within the living sector was also evident as compressed yields forced investors to think more strategically and look beyond traditional multifamily properties for growth, Cushman & Wakefield said. In Japan, the aging population was identified as a demographic tailwind for senior living accommodation while strong policy support prompted another investment firm to focus its attention on the childcare industry in Australia.
Dr. Dominic Brown, head of insight and analysis, Asia Pacific at Cushman & Wakefield, said in the company release: "The rising significance of the living sector should not be underestimated. Diversity within the sector allows for different investment strategies.
"Furthermore, the frequent lease renewal opportunities can act as a hedge against inflation, providing a blend of near-term inflation protection and longer-term growth opportunities."
As investors adjust to the higher interest rate environment, Marsden said there was an evident move away from more opportunistic strategies. "Just over 50% of investors indicated that they considered the best risk/return ratio today to be in value-add Tier 1 opportunities," the regional director of Cushman & Wakefield said, adding that emerging economies placed second with just under 20% of the votes.
In the first six months of 2022, Vietnam recorded a new high with $10.06 billion in capital from foreign investors disbursing into Vietnam. This is the highest growth rate over the past five years. In which, real estate ranked second, accounting for 26% of total capital, with leading investors from Singapore, Japan, Denmark, China, and Korea.
"Industrial and logistics properties, development land, hotels and offices are being sought after by investors," said Trang Bui, CEO of Cushman & Wakefield Vietnam.
"To attract more foreign direct investment, Vietnam is focusing investments on upgrading important transportation facilities like highways and seaports and increasing competition index ranking. These upgrades are contributing to robust growth in the economy and especially in the logistics and industrial sectors," she said.
Vietnam's upbeat growth outlook is bucking the slowing trend elsewhere in Asia, with relatively subdued inflation as an exception to the regional rule, the International Monetary Fund said Tuesday.
On the same day, Moody's raised Vietnam's rating from Ba3 to Ba2, meaning outlook changed from positive to stable.
The upgrade reflects Vietnam's growing economic strengths relative to peers and greater resilience to external macroeconomic shocks that are indicative of improved policy effectiveness, the credit rating agency stated.
Source: The Investor Wafie magazine